I LOVE to crochet and always found knitting to be too slow, until I purchased my Incredible Sweater Machine. What a great idea that was! To whip out a basic afghan in one day is truely incredible.
The Afghan pattern that came in the book with the machine makes wonderful gifts. The solid color Coats and Clark yarns with the tweedy type speckles make beautiful, classy looking afghans. I have tried using a variegated yarn but found it makes better scarfs than blankets.
And you really don't have to admit that you made it by machine, unless they ask for specifics, we would'nt want to fib now would we.
My major dilemna was what to mount the machine to and sit comfortably (ergonomicaly?). So I found an old small drop leaf table, took off the leafs and sawed the legs shorter. Now it sits the perfect height for sitting on the sofa without creating shoulder stress. I do have to wait till no one is home to use it though. My family hates the clicking noise, I find it rather soothing.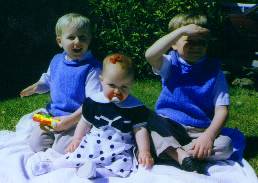 These are my sister, Michele's, kids, (left to right) Mason, Jacynda and Stefan. You may recognize the pattern for the boys vests. I just adapted the basic childs sweater in the beginner book that came with my bond. Stefan's came out a little large for him, but Mason's fit perfect. I made these for Easter and crocheted a sweater for Jacynda, it's on my crochet page if you'd like to see it.


Here is the pic of the first sock I made with Mark's Birky Sock pattern from the Bond List.
I used a variegated Lion Brand Jiffy yarn.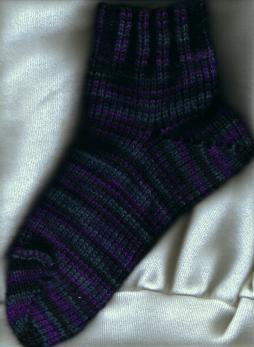 Click on the sock to go to the pattern.
There are only a couple of adjustments I will make to his "Secret Formula". Make the heel/toe measurement a little wider so it's less pointy and make the sock length shorter. I had to "frog" a little cuz the sock was a bit too long.

These green socks were made from Gina B. Ahrens, Ankle Socks for the Whole Family, pattern.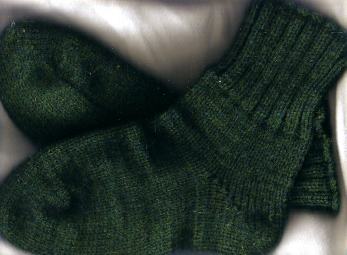 Click on the sock to go to Gina's site and get the pattern. These were made with Woolease using keyplate 2. I used the extra large size instructions and they came out 10 inches for the foot length after the first washing, which fits my 10 1/2 shoe sized husband perfectly. I also made the ribbed cuff longer and did a 2x1 rib but those are the only adjustments I made to the pattern.

These are a couple of scrunchies. Click on the pic if you would like to know how I made them.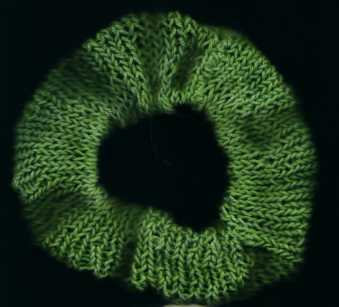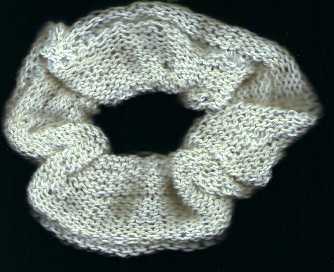 Purple Chenille Swatch
Here is the swatch of the purple chenille sweater I'm bonding for my daughter. The pic really doesn't do it justice nor show just how luxurious this yarn is, but I'm keeping my fingers crossed that it won't have the problems that some other knitters have had with chenille yarns :) It's just too soft and lush and beautiful not to try it!