Crochet


These are a couple of "Cadbury" Creme Egg covers I crocheted the other day.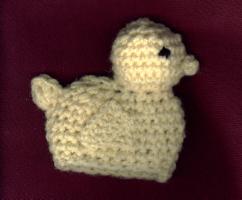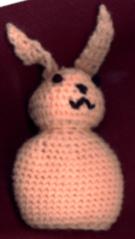 I don't have a pattern, sorry, just sat down with a Snickers egg and started crocheting (the hardest part was handling that candy egg and not eating it :). I got the idea from a picture on a knitting web page. I'll see if I can recreate it and write something up, but basically it was just single crocheted in the round, increasing and decreasing when appropriate to shape. I used baby fingering weight yarn, doubled, and an H hook for the chick. Baby fingering weight, single strand and an F hook for the bunny. I haven't decided what to do for the bunnies arms yet, either embroider outlines or crochet something to attach. The heads are stuffed with a cotton ball and the bottom is open enough to pop a candy egg into it.

My grandmother taught me to crochet when I was 9 or 10 years old, and I've loved it ever since. Over the years, many a baby has been snuggled through one of my baby afghans and couples stay toasty warm on the sofa under an afghan lovingly created from my hands. The little sweater below was made for last Easter (1999). The beautiful model is my niece Jacynda Harp.



Cozy Place
Crochet Cabana
Vintage Crochet Parlor
Free Stuff Crochet